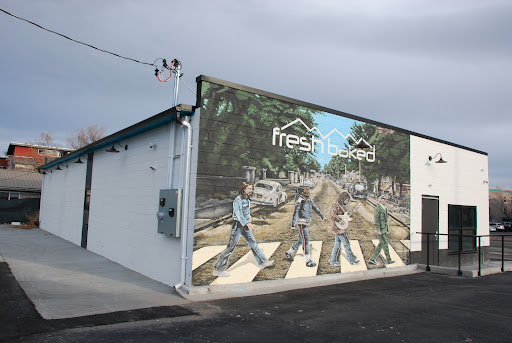 The WWReynolds listing team was able to help the Fresh Baked company find a perfect new location to expand their storefront right on the corner of Folsom and Pearl.
Boulder, CO:  The Boulder dispensary Fresh Baked announces today that they are taking over the former Barnsley Tire building on the corner of Folsom and Pearl, offering the same high quality product Fresh Baked is known for with an elevated experience. "We have had this location on the radar for 10 years and often reminded Barnsley.  We jumped on the opportunity as soon as it became available," says Chad Jasnau.
The new storefront features a spacious waiting area, plus six budtenders and a wide range of high quality products within an open warehouse filled with wood and natural light. Future plans also include a walk up window and drive thru once the City allows it. Customers can expect the same great high quality flower and wide selection of edibles, concentrates, CBD, and pre-rolls, but a new customer experience.
Founded in the era of medical marijuana, Fresh Baked became the first dispensary within the city limits to convert to recreational cannabis sales in 2014. A pioneer of recreational cannabis culture in Boulder, CO, Fresh Baked has held its post on the east end of Boulder's Pearl street for over a decade and they look forward to continuing to offer the highest quality flower and cannabis products to their dedicated customer base.
Exciting new location features:
Six budtender bars

Unique interior design

Relaxing waiting area

Highest quality flower grown in Colorado

The Beatles inspired mural from local artist Windwood Creative on the West Exterior Wall
Two doors down is the original and former Fresh Baked location, which will be converted into Boulder's first discount dispensary and will be rebranded as Half Baked. Half Baked will offer buds at a significant discount, as well as a variety of other discounted products. "Half Baked just made perfect sense. Cannabis can be very expensive and we want to give a good option to people looking to spend less.  Plus I love the name." says Chad Jasnau.
Fresh Baked's new location on the corner of Pearl & Folsom (2535 Pearl Street) will be open starting November 24th. For more information on Fresh Baked, visit www.freshbakedboulder.com. Don't forget to visit Half Baked at the original location!
If you're looking for a new commercial space do not hesitate to call Chad Henry and Drew Weiman with WWReynolds!
*Original press release written by and posted by Press Advantage