After years of planning and building, the nearly 90 acres that sit south of Valmont Street in East Boulder is finally taking shape into the Valmont Bike Park and Valmont Dog Park. This is just one of many new, modern updates to the East Boulder neighborhood that will make it the next hottest spot in town for commercial real estate investment. With the University of Colorado right around the corner, and easy access to many of Boulder's main roads and highways, East Boulder is expecting to see exponential growth in 2020 and beyond.
Nearly 12 years ago, City Council and the Parks and Recreation Department of Boulder started planning the development of Valmont City Park, which is about 90 acres of undeveloped land south of Valmont road. While ensuring that the plans addressed the needs of the community in a holistic way, city planners consulted with a community survey, industry trend analysis, stakeholders, community youth groups, and beyond. The result? A super park with amenities like:
Bike park
Dog park
Disc golf course
Skate park
Multi-use path
Picnic tables
Public restrooms
RTD access
Aquatic facility
Baseball field
The bike park and dog park portion were finished a couple years ago, while the ball field and aquatic facility have yet to break ground.
What makes the area even more relevant is the geographical gem stone that it is. Sitting just north of the rapidly developing and growing East Boulder, and so near the Boulder Municipal Airport, Valmont City Park adds incredible value to retailers, community members, and commercial and residential real estate professionals alike. The most recent updates to the project include enhancements to the skate park and pump track that is in the park.
In addition to Valmont City Park livening up a quickly developing neighborhood, the highly anticipated Sterling Campus which neighbors the city park is up for grabs. Consisting of 3 separate buildings that range from 20,000 SF to 30,000 SF, the Sterling properties are being completely renovated in 2020 as high-end flex office space sure to make any growing company turn its head. The renovations, geared towards creative tech, are designed by Boulder's acclaimed Oz Architecture.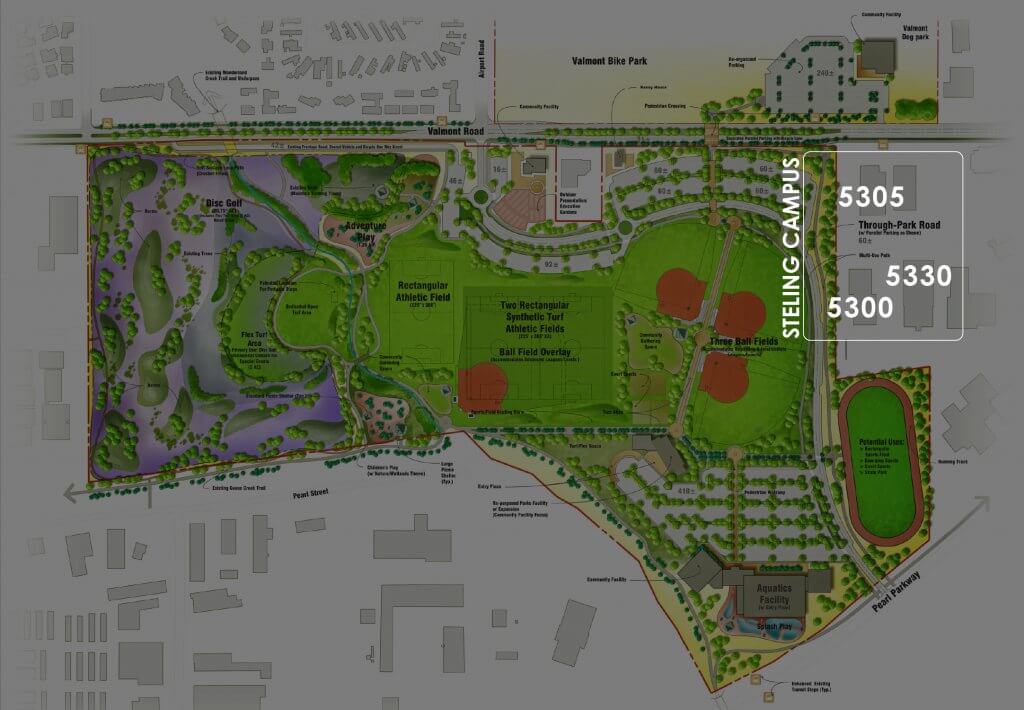 The fact that the three Sterling buildings can be leased together for a campus setup, combined with their proximity to the city's Valmont Park Master Plan, make them a very unique opportunity for Boulder.